This Hair Straightener Heat Comb Specially designed to smooth and straighten all hair types that need extra heat, this Gold-Plated Straightening Comb provides the ultra-high heat you need to get salon results at home, with less frizz and damage.
Choose from 30 heat settings, including 15 high-heat options to cover all hair textures. 345˚F ultra-high heat with Turbo Boost makes it easy to maximize results and lock in long-lasting looks. 30-second heat-up helps you style fast, with more styling and less waiting. The uniform heat recovery system maintains even heat for consistent styling and damage control, while gold plates give natural and coarse hair textures a polished, professional finish with less damage.
Explore a wide variety of silky straight styles quickly and easily, whether your hair is coarse, thick, wavy, curly, or frizzy. The comb gets near the roots for straighter, fuller, and sleeker styles. Experiment with parts and flips for that fresh-from-the-salon look—with no need to visit the salon!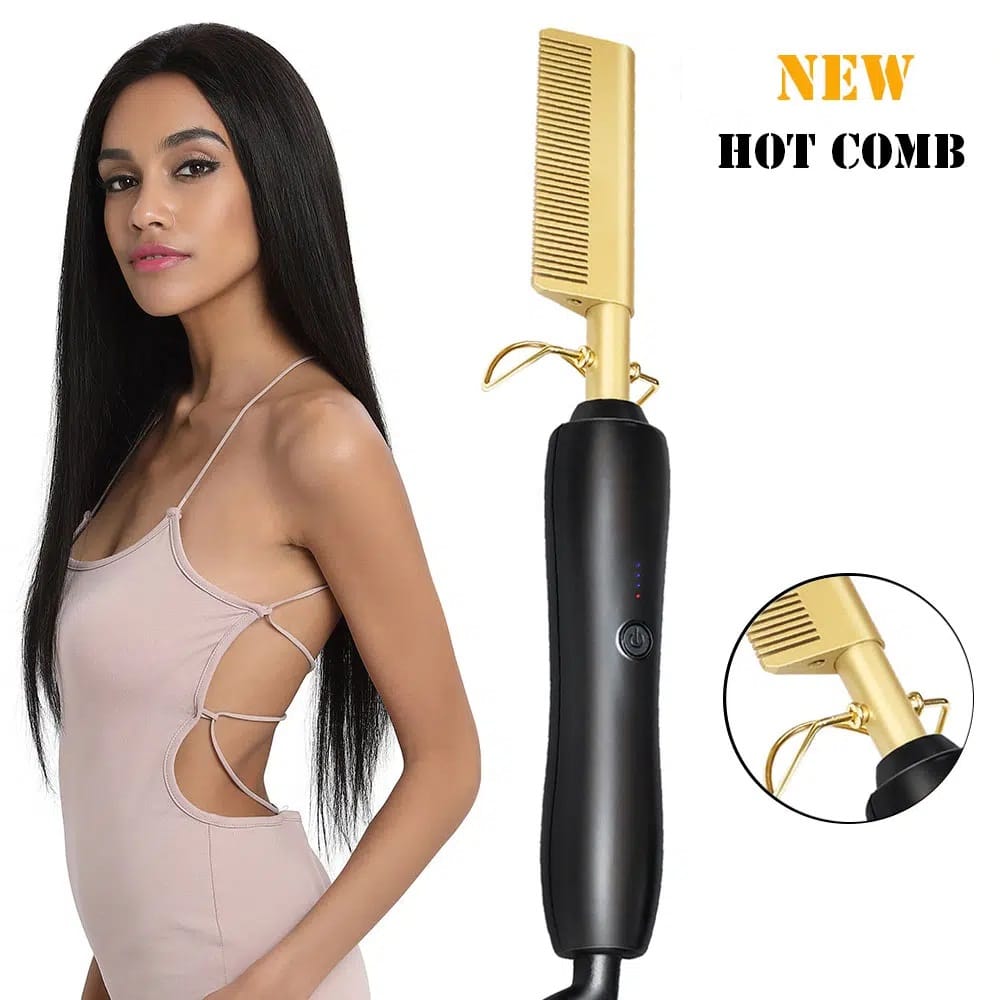 Straight hair + Curly hair
Electric Comb Hot Straightener Curly Hair Comb 2 in 1 Curling Comb Straightening Temperature Adjustable Heating Fast for Hair

Easy to use and safe: One button operation design, easy to use. In addition, this electric heated comb with unique anti-scalp comb for you, so don't worry about scalp hurt during use due to uncertain temperature.

Very Fast Heat Up Time: This hot comb straightener heats up in just 30 seconds with this comb; Easily adjust the temperature according to your hair type and quickly gives you salon quality.

Easy to Wear: This warm comb is small and easy to carry anywhere, so you don't have to worry about it taking up space and weight. Make your own style when, where, and what you want.

2 in 1 Functions: You can not only use this electric hot comb for curly hair, but also straighten your hair.
Professional Hot Comb

Suitable for all hair types: long, short, damaged, colored or extensions.

Ionic technology, less heat damage and a silky glossy finish.

Suitable for all hair, can create a variety of different hair styles

F

ast Heating

Healthy combing hair

Make you more confident

even heat distribution , leaving your hairshiny , supper smooth , as you won't riskcausing unnecessary damage by goingover your hair

curly hair + Straight hair

2 in 1 functions; You can not only use this hot comb to curl the hair, but also straighten your hair. ALL-IN-ONE high performance.

Makes your hair soft, smooth, sleek and shiny.

Fast Heating,this electric comb provides a unique anti-scalp comb for you, so don't worry about the scalp hurt during use due to uncertain temperature.
1 : Temperature indicator

Adjustable temperature

Three speeds (high, medium and low)

High-end: 180 ~ 210 ℃, suitable for thick and hard hair

Mid-range: 160 ~ 180 ℃ suitable for ordinary hair

Low quality: 80 ~ 160 ℃ suitable for soft hair

2 : Healthy ceramic heating technology

The heating comb adopts ceramic technology to evenly heat the ceramic,

Will not damage the hair, will help to make the hair beautiful, without foam and shine.

3 : Anti-scalding support

The design of the stand helps prevent burning the table when lying on the table.
4 : Universal voltage 110-120V

No matter where you are, 110-120V universal voltage can provide the same great performance.

5: Ultra fast heating

Instant heating: heating for 30 seconds, you can quickly prototype, which greatly save the waiting time.

6: Line protection design:

The hot comb with cord protection design and extra long cord can extend the service life and make it easier to use with one hand.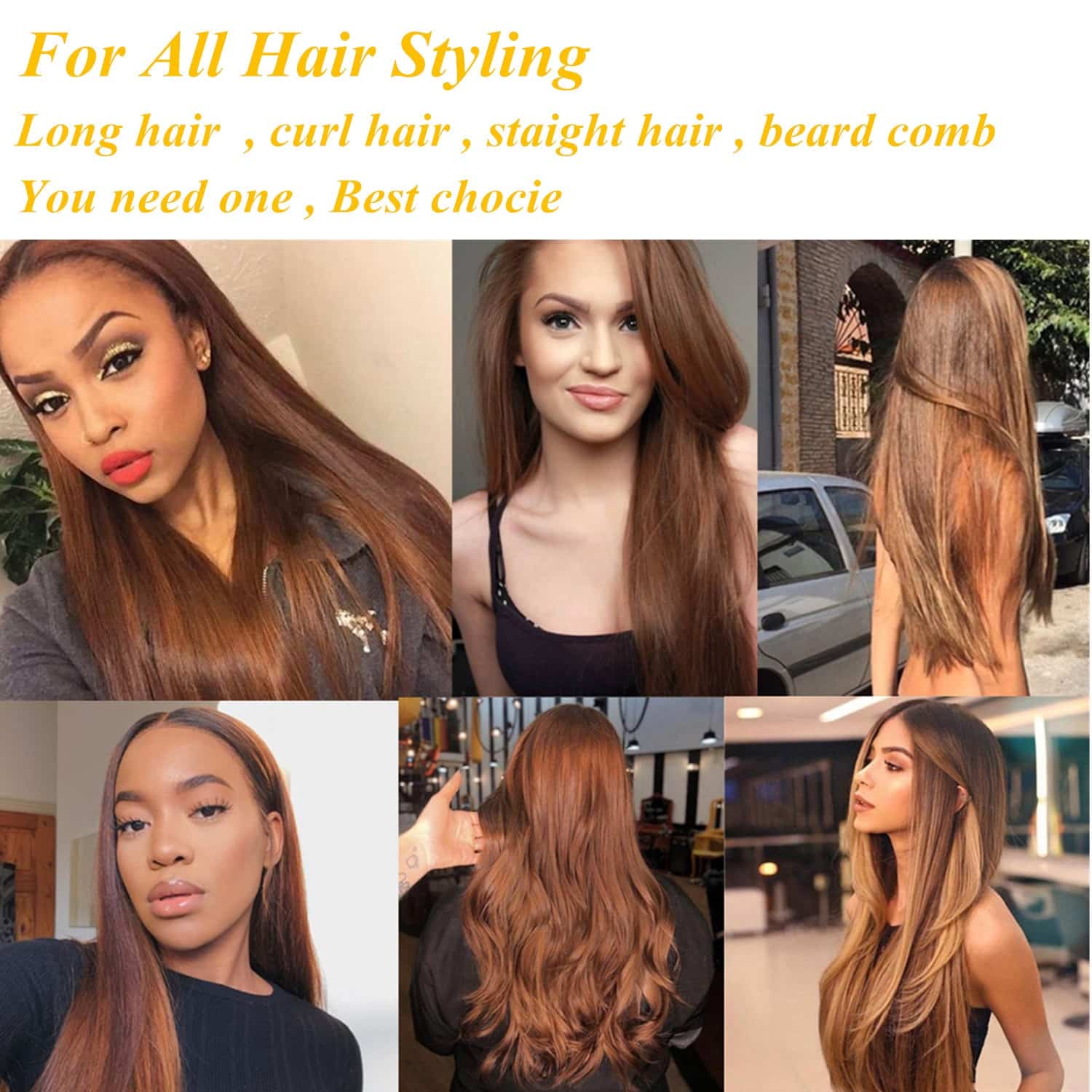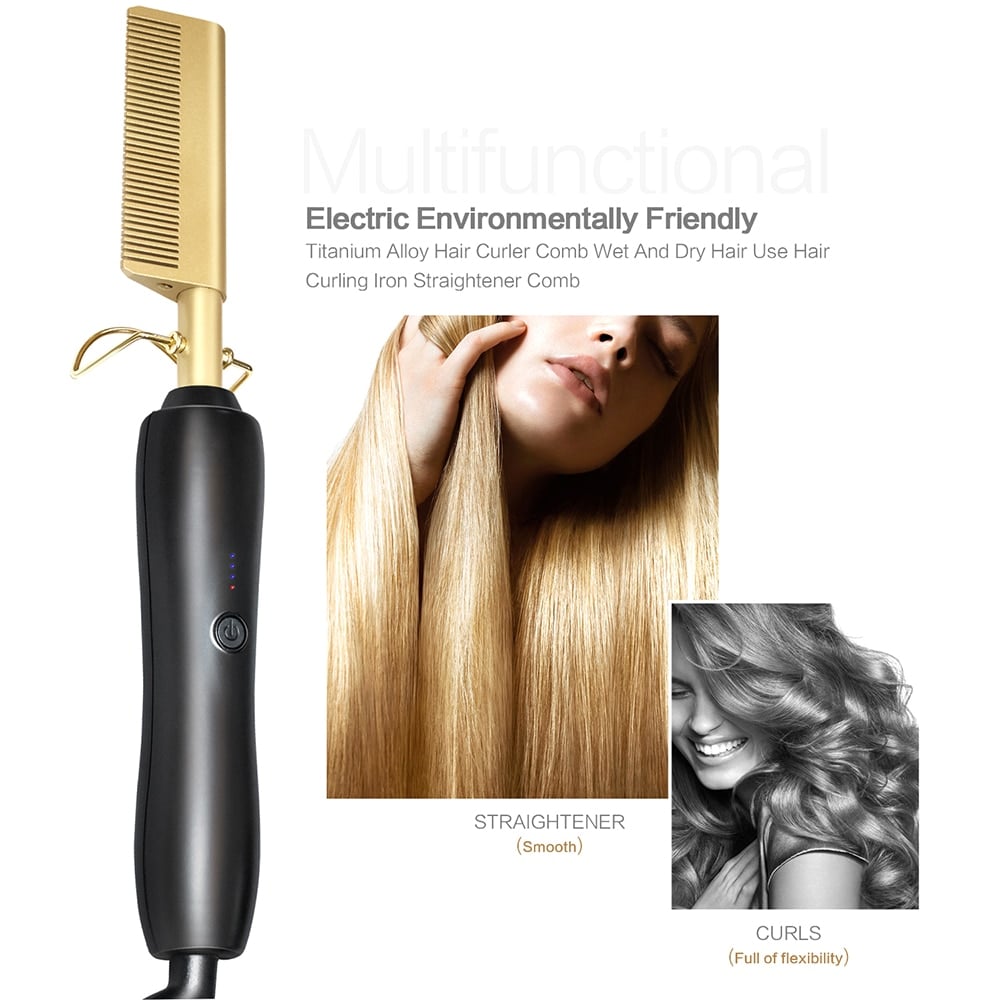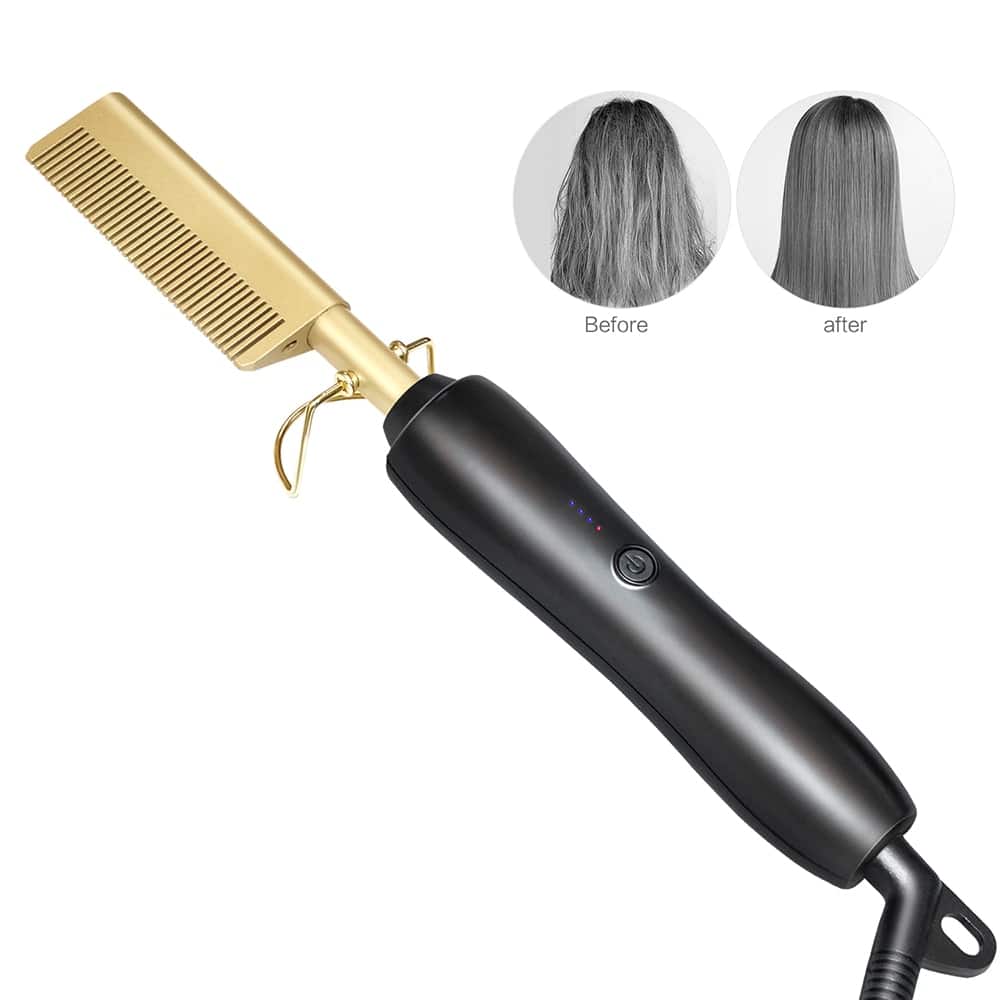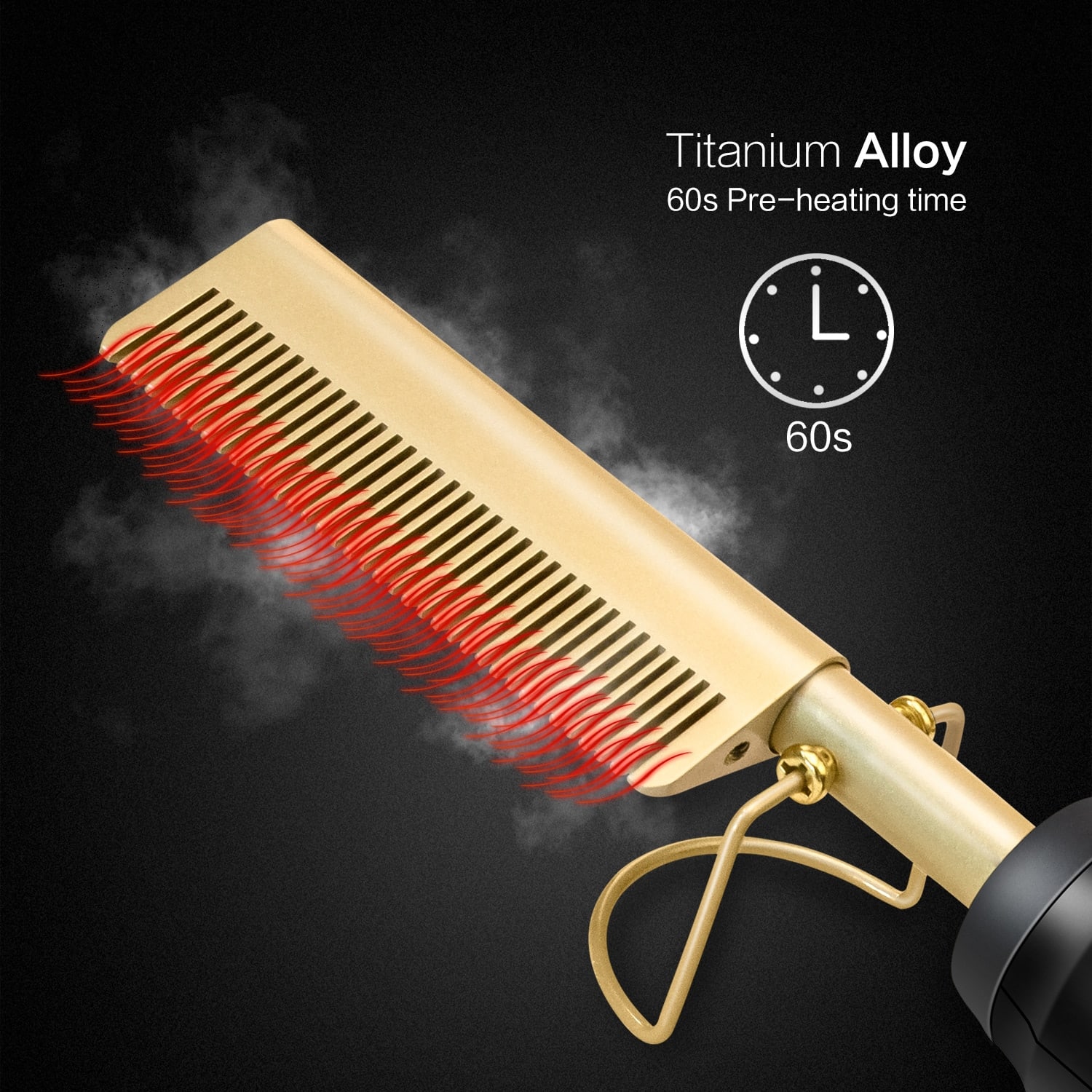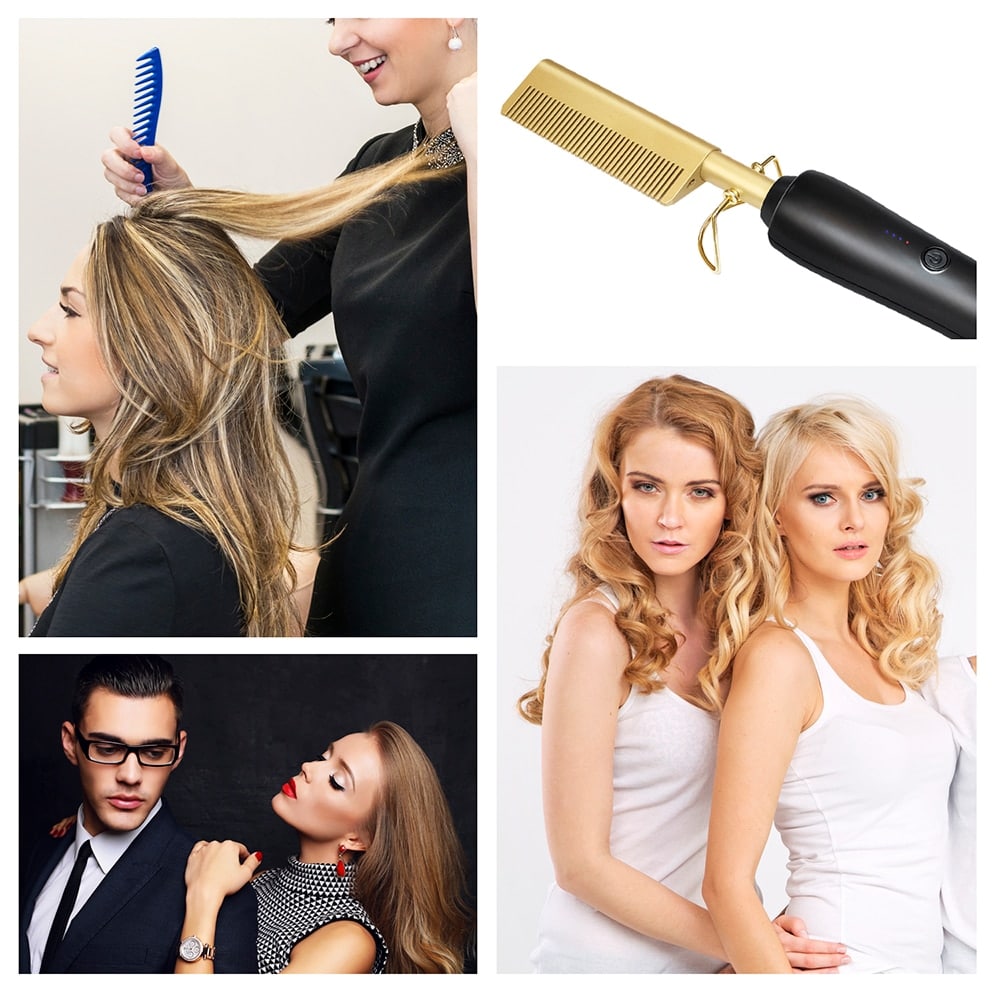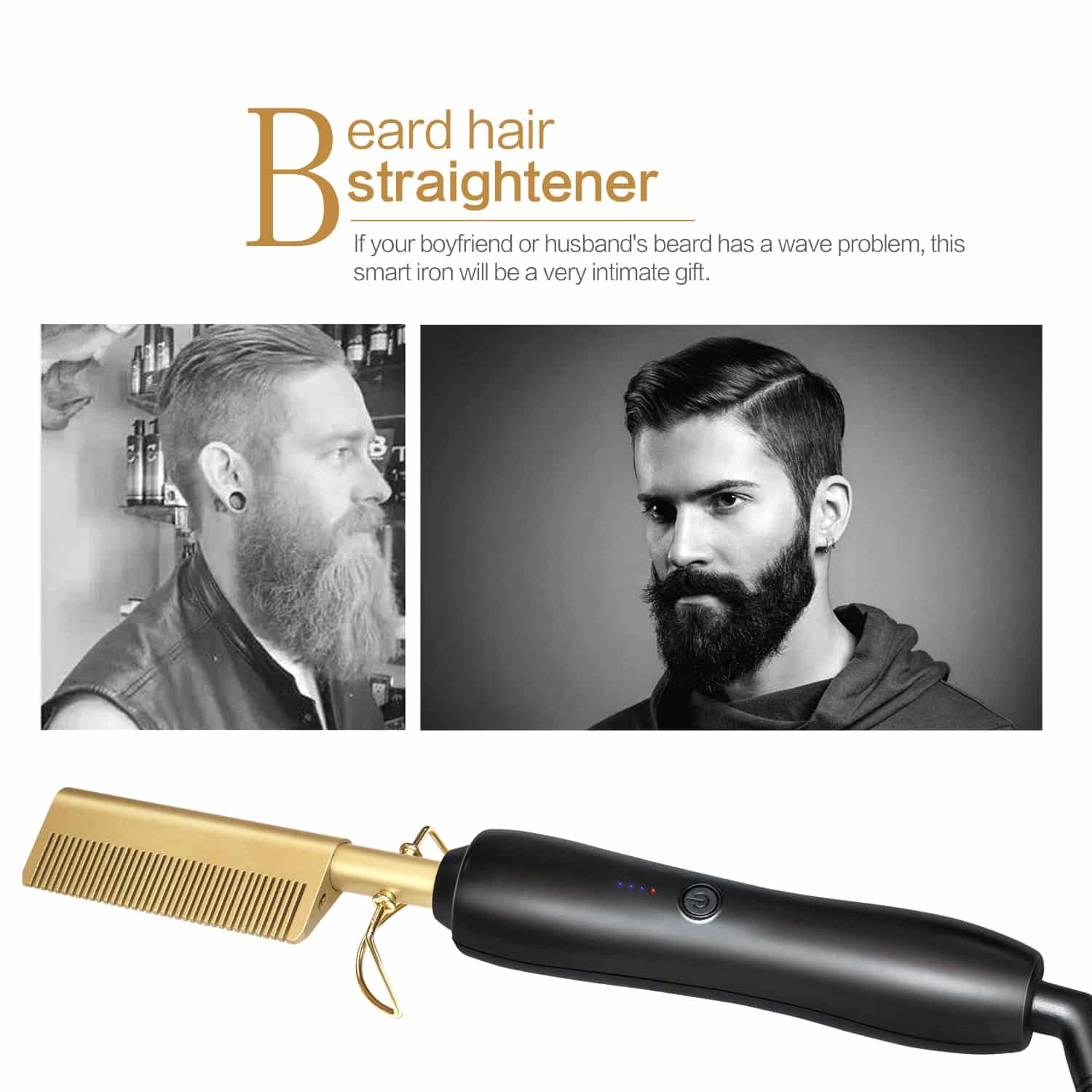 Product Details:
Item Type: Hair Straightening

Material: ABS, Iron

Power: 60-100 W

Commodity Quality Certification: CE

Min. Temperature: 120 °C

Max. Temperature: 230°C

Optimal Styling Time: 1-2 min

Voltage: 100-240 V

Diameter of Thermal Conductor: 16-20 mm / 0.63-0.79 inch

Voltage: 110-240 V Volts (Universal Global Voltage)

Power: 80 W

Temperature & Efficiency Adjustment: LCD, 120C-230C
Usage Tips
Dry your hair before using this hot comb.

Set up the anti-scald comb for hair/beard straightening before use.

After the hot comb heat-up, slowly comb your hair/beard from top to bottom.

If you'd like the styling long-lasting, you can use the beard oil/hair styling lotion/soften lotion after straightening.

You can use the dry/wet towel to clean the comb after it cools down.
Attention
Do not use these products near a bathtub or other wet area.

After the comb is used, cool it and store it
Package Includes: