Stand a little taller and with confidence wearing this posture corrective therapy brace. Supporting all the right areas to align your neck and spine, this brace helps train your posture to maintain its upright position.
SIZING INSTRUCTIONS:
Small: For adults up to 44 lbs – 88 lbs (20 – 40 kg).
Medium: For adults up to 88 lbs – 132 lbs (40 – 60 kg).
Large: For adults between to 132-198 lbs (60 kg – 90 kg).
Extra Large :For adults between to 198-242 lbs (90 kg – 110 kg).
☑️IMPROVE POSTURE – Our posture brace works by training your muscles and spine to return to their natural alignment.
☑️REDUCE BACK PAIN – Bad posture left unchecked can cause pain, lethargy, and even lead to nerve damage. Our back brace, coupled with physical therapy, aids in the treatment of back pain.
☑️MAXIMUM COMFORT – Our durable and comfortable design allows effective assistance while being comfortable to wear. The cushioned straps pull your shoulders back while the waistband supports the middle and lower back.
☑️INVISIBLE – Our back brace fits seamlessly under your clothes, giving no indication of the extra help!
☑️FOR BOTH MEN & WOMEN – Our non-restricting design fits both men and women of all ages. Refer to the sizing chart below to ensure you select the correct size.
WHY DO I NEED THIS?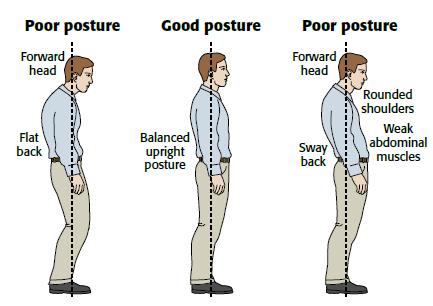 Poor posture can be detrimental to health! If you are in front of a screen for gaming or even at work, chances are you suffer from slouching and poor posture. Even athletes can suffer from this due to muscle imbalances.
So whether you are male or female, athlete or gamer, our Posture Corrector is a must. Posture Corrector fits comfortably and is adjustable to multiple body types. It firmly pulls the shoulders back, eliminating the "rounding" of shoulders which cause unhealthy poor posture. Additionally, our Posture Corrector is amazing for helping athletes maintain proper back form while working out to also help prevent injuries. Look confident, feel confident and be healthier



WHY Posture Corrector?
Posture Corrector is not about a temporary fix. When your body adjusts to wearing our Posture Corrector, muscle memory will form so that even when taking it off, your body will naturally adjust to its newer and healthier posture. The lightweight but firm material is adjustable and made of breathable material which means you can wear it all day for maximum effect. Even under clothing!
FREQUENTLY ASKED QUESTIONS
Question: Will this weaken my back muscles?

Answer: No it will not! Our posture corrector is not made out of super stiff material that will keep your posture locked in place like a cement vest, nor is that even healthy. Our posture corrector is an aid that helps your muscles maintain the correct posture, acting as a constant reminder to your and your muscles that keep your posture straight. Your muscles will develop over time to maintain it.

Question: Will this pinch my arms/shoulders?

Answer: No, unless you are wearing the posture corrector incorrectly. If you experience pinching either you are wearing it too tight or you are slouching your shoulders into the posture corrector too much. Loosen the straps to your comfort level and pull those shoulders back!  That's the beauty of BodyWellness™ Posture Corrector, if you are slouching, it will become uncomfortable, forcing you to keep your shoulders back to regain comfort. It is the perfect way to strengthen your muscles to develop longterm healthy posture.

Question: What size is right for me?
Answer: Our product comes in Regular and Large sizes. With specially designed stretchable materials and straps, it can be adjusted to all body types, men or women. See sizing chart below:
Small: For adults up to 44 lbs – 88 lbs (20 – 40 kg).
Medium: For adults up to 88 lbs – 132 lbs (40 – 60 kg).
Large: For adults between to 132-198 lbs (60 kg – 90 kg).
Extra Large :For adults between to 198-242 lbs (90 kg – 110 kg).
Question: How long can I wear it?
Answer: Your body will not be used to the new posture, so it will take time. Stop wearing it as soon as it becomes uncomfortable; take a break and wear it again. We recommend not wearing it to sleep. Most of our customers achieve great success wearing it 2-4 hours at a time.
Question: Can I wear it under my shirt?
Answer: Yes! Posture Corrector is designed to be sleek so that it fits undershirts or clothing, so you can be wearing it in public without people noticing. But for maximum comfort, consider wearing it over the clothing.