H2O USB Air Humidifier and Fragrance Diffuser
The H2O Nano-Air Humidifier Fragrance Diffuser makes clean air easy for people who worry about the air quality in their home. This compact device promotes healthy and easy breathing by optimal humidifying and ionizing the air around you. Incorporating a humidifier into your daily life has countless benefits to your health.  It helps to alleviate allergy symptoms, prevent cold and flu symptoms, kill bacteria and viruses, and eliminate irritating conditions such congestion and sinusitis. By increasing the humidity of the air, it also increases focus, improves mood and makes you feel energetic and refreshed.
Works with any fragrance and essential oil to make your home smell lovely

Nano Atomization Technology for 10x better results than other diffusers

Smart Nano Chip for auto-shutoff, timer and smart LED modes

High efficiency filter reduces rust, dirt and purifies air better

Large water tank for up to 12 hours usage

Helps reduce stress and anxiety, improves sleep quality and alleviate allergy symptoms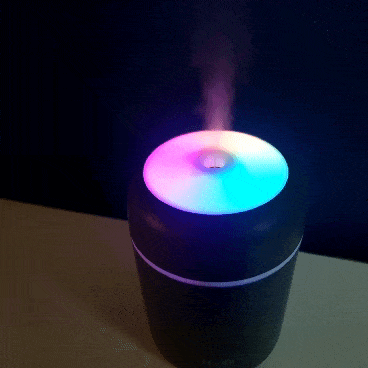 Use with water, As Humidifier — Fill up whole container with water.
Increase Air Humidity

 – Great for reducing dust and allergens in your space which can reduces sinus inflammation.

Beauty Benefits

 – Allow your skin and hair to hydrate and glow with increased water in the air. Alleviate chapped lips, dry eyes, dry/bloody nasal passages.

Prevents or Reduces Symptoms

 – Helps prevent colds, flus, viruses, allergies and asthma. Reduce symptoms of sore throat, congestion,

  

snoring and lubricated nasal passages.

Improve mental clarity

 – Increased levels of oxygen in the air can increase awareness, relaxation and focus.
Use with any fragrance or essential oil, as Fragrance Diffuser —  (Only 1-2 sprays needed for 6-10 hours)
Transforms Your Environment

 – turns fragrances or essential oils into a gentle, fragrant mist to surround you with the fragrance you love. [Our Oils Are Available Below As A Bundle, scroll down to purchase as bundle.]

Reduce Stress & Anxiety

 Particularly – oils like lavender, frankincense reduce anxiety and promote calmness of body and mind.

Improve Sleep Quality

 – 

Lavender and Eucalyptus oil all stimulate a release of serotonin and melatonin, promoting a night of restful, uninterrupted sleep.

Elevate Mood – 

Oils such as lavender and peppermint promote positive feelings by raising the frequency of the body and elevating your mood.

Increase Focus – 

Certain oils such as eucalyptus and peppermint are great for giving you a critical boost to energy and mood.
HOW TO USE (Easy):
Fill up the water compartment.

Add in your favorite fragrance or our pure aromatherapy oil set.

Turn on Fragrance Diffuser.

Your room now smells amazing and fresh.
Enjoy additional benefits from different essential oils.
Package Incudes :
1 X Humidifier

1 X USB Cable

1 X User Manual

5 X Filters